Rob Ratcliff, Content & Community Manager
Comment now

13/12/2013

As IFSEC International prepares to move to London's ExCeL on 17-19 June 2014, the team has undertaken an extensive research project to find out what security and fire installers think about IFSEC International.

Tim Checketts, EMEA Sales Manager, Speciality Products, System Sensor Europe
Comment now1

13/12/2013

Why consider aspiration detection? As part of an automatic fire detection system, aspiration technology offers five main benefits that significantly increase its effectiveness over traditional solutions.

Rob Ratcliff, Content & Community Manager
Comment now4

12/12/2013

The Passive Fire Protection Federation (PFPF) has praised the wider fire industry for a year full of successful fire safety awareness initiatives.

Peter Houlis, Managing Director, 2020 Vision Systems
Comment now3

11/12/2013

Security convergence is a relatively new and diverse field, often talked about in security circles. Theoretically, security convergence is about uniting the multidimensional disciplines of an organisation, in a one plus one equals three equation. In other words, a converged solution should be greater than the sum of its individual parts. Such that ...

Rob Ratcliff, Content & Community Manager
Comment now6

10/12/2013

Pope Francis has revealed that he was a nightclub bouncer when he was a student growing up in Buenos Aires.

News Archives

Lilin LD2222 2 MP Surveillance Camera Review

Comment now15 David Crowder: Spotlight on Lakanal Is Painful But Helpful

Comment now Paul Duggan Talks About the New CPR

Comment now Video Archives



Hello. We were unable to find the address you requested. You may search for the content you are seeking using our search form or email
technical support
with any questions.
Join the IFSEC Global.com community to access:

Download free reports, research and whitepapers

Analysis and case studies from expert contributors

Free email newsletter briefings: Security, Fire and Installer

Network in our members-only community and join the conversation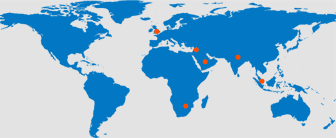 All Events
Latest Archived Broadcast

Securitas director of security risk management, Dr Peter Speight, explains why security relies on the process of risk management. If a business cannot understand risk, how can you possibly keep yourself secure?
Comment now

53
IFSEC Global is looking for engaged readers to moderate the message boards on this site. Engage in high-IQ conversations; earn kudos and perks. Interested? E-mail:
moderators@ifsecglobal.com