UBM Live officially launched IFSEC International and FIREX International's move to ExCeL London in 2014 with an event on Wednesday.
More than 200 partners and premier exhibitors from across UBM's Protection and Management Series -- IFSEC, FIREX, the Facilities Show, and the Safety & Health Expo -- were given the opportunity to explore all the benefits ExCeL and the surrounding area have to offer.
Click the image for more from the launch event.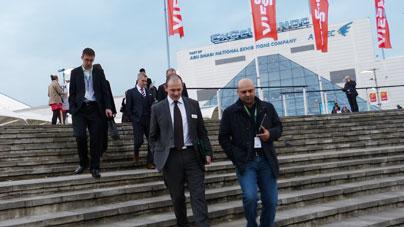 IFSEC International is moving from the NEC after 16 years. The state-of-the-art ExCel venue will host all four shows under one roof 17-19 June 2014.
Simon Parker, managing director of UBM Live, said at the launch event:
We are excited to be revealing more detail on our plans for ExCeL and the positive effect this will have. Following the extensive research conducted before the decision was made, we have taken on board all the feedback gathered from our exhibitors, visitors, and partners to ensure the events are tailored to exactly what the markets want.
Showcasing Ecobuild, the world's biggest event for sustainable design, construction, and the built environment (also organised by UBM), the launch event offered guests a tour to visualise the Protection and Management Series in 2014.
Peter Houlis MSyI, managing mirector of 2020 Vision Systems, said:
[It is] great news to hear that IFSEC International is set for a return to London. Given the world ranking of the UK's security sector, it's only natural that the world's most prominent security event should take place in the nation's capital.
The move of FIREX International also received positive feedback. Nick Baldwin, marketing director at Baldwin Boxall Communications Ltd., said:
UBM has listened to the needs of FIREX exhibitors by moving the venue from NEC to ExCeL, and Baldwin Boxall is delighted with the move. FIREX has been a key exhibition for us, and we are sure 2014's show will be a great success due to the new exciting location.
To see further details of the support that IFSEC International has behind its move to London, please visit www.ifsec.co.uk/londonsupport.