Video: CCTV Fails to Capture Reckless Driver

A car crash recorded in a West Midlands car park leaves us all ...

Peter Houlis, Managing Director, 2020 Vision Systems
Comment now2

11/12/2013

Security convergence is a relatively new and diverse field, often talked about in security circles. Theoretically, security convergence is about uniting the multidimensional disciplines of an organisation, in a one plus one equals three equation. In other words, a converged solution should be greater than the sum of its individual parts. Such that ...

Rob Ratcliff, Content & Community Manager
Comment now5

10/12/2013

Pope Francis has revealed that he was a nightclub bouncer when he was a student growing up in Buenos Aires.

Cherry Park, freelance journalist
Comment now

09/12/2013

The Chief Fire Officers Association (CFOA) has embraced the recent report on the first phase of the review into the organization of urgent and emergency care by Professor Sir Bruce Keogh, national medical director of NHS England.

Rob Ratcliff, Content & Community Manager
Comment now

06/12/2013

An Italian firm will provide the Glasgow Commonwealth Games next year with security fencing, video surveillance, security lighting, and security management systems.

Rob Ratcliff, Content & Community Manager
Comment now2

06/12/2013

The cost of fire is increasing at an 'alarming' rate according to Allister Smith of insurers Aviva. Speaking at a day of seminars organised by the ASFP, the UK Property Risk Manager of the insurer expressed his deep concern at how the focus on designing buildings that are exclusively focused on ensuring life safety -- and not also in protecting the ...

News Archives

Lilin LD2222 2 MP Surveillance Camera Review

Comment now15 David Crowder: Spotlight on Lakanal Is Painful But Helpful

Comment now Paul Duggan Talks About the New CPR

Comment now Video Archives



Join the IFSEC Global.com community to access:

Download free reports, research and whitepapers

Analysis and case studies from expert contributors

Free email newsletter briefings: Security, Fire and Installer

Network in our members-only community and join the conversation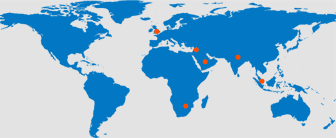 All Events
Latest Archived Broadcast

Securitas director of security risk management, Dr Peter Speight, explains why security relies on the process of risk management. If a business cannot understand risk, how can you possibly keep yourself secure?
Comment now

53
IFSEC Global is looking for engaged readers to moderate the message boards on this site. Engage in high-IQ conversations; earn kudos and perks. Interested? E-mail:
moderators@ifsecglobal.com