Ron Alalouff reports on the chaos surrounding a residential block with a range of complex fire safety defects.
A residential block in Ipswich poses such serious risk to residents that they were abruptly told to vacate the building after two prohibition notices in the space of four months were served.
Among the fire safety issues unearthed during a succession of inspections at Cardinal Lofts on the town's waterfront, was highly flammable external cladding and a lack of adequate floor and wall compartmentation. Some of the cladding and insulation is even more flammable than that found on Grenfell Tower, and was apparently not compliant with Building Regulations even at the time of refurbishment.
'Highly combustible'
According to a report by Inside Housing, the rendered insulation on the lower floors uses expanded polystyrene with the most highly combustible 'Class F' rating. The rainscreen cladding system on the top three floors includes PIR (polyisocyanurate), a Class E material described as "highly combustible" in a November 2020 report seen by the magazine. "This wall type is not compliant with current building regulations guidance, nor the guidance at the time of construction," it adds.
In November 2022, Suffolk Fire and Rescue Service issued a prohibition notice on the top three floors of the building but were satisfied that additional measures, such as a fire alarm system and a waking watch, would allow residents on the floors below to remain.
Then last month, the building owner, Grey GR, advised residents to vacate the entire block following a more intrusive inspection carried out on its behalf, which included a fire risk appraisal of external walls (FRAEW) under PAS:9980. There was anger from some residents about such a move, as the fire service had considered the risk mitigation measures sufficient for anyone who chose to stay, and had not issued a further prohibition notice relating to their floors.
Since then, however, the fire service received new information that "the structural issues at the property are significantly worse than the compartmentation report supplied by Grey GR suggested, which could increase the spread of a fire at the property or hamper evacuation efforts," and so it issued a second prohibition notice for the entire building on 14 March 2023.
Worse than previously thought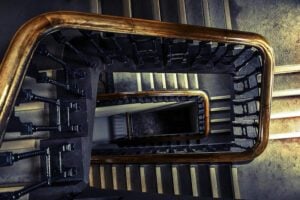 "In the case of Cardinal Lofts," said Toby Gray, Suffolk Fire and Rescue Service's Area Manager for Prevention and Protection, "we have recently learned that the state of the building is worse than previously thought, posing a danger to occupants and putting our firefighters and the waking watch at risk of serious injury or death in the event of a fire, meaning it would be highly irresponsible for us not to enforce an immediate evacuation of all floors."
"We are disappointed on behalf of residents that the fire service was not fully informed about structural issues at the property. Had we been made aware of these dangerous defects when the first Prohibition Notice was issued, months of uncertainty and confusion for those living at Cardinal Lofts may have been avoided."
Grey GR have not downplayed the scale of the problems. These include combustible external cladding and rendering, a lack of internal compartmentation between flats and floors, a lack of fire stopping for the building's pipework and services, fire door issues, an inadequate AOV system, and void areas with insufficient protection.
"In November, heightened risks became apparent to us in respect of the AOV system," said a Grey GR spokesperson. "The top three floors are served by a single staircase. These two risks – in conjunction with communal area compartmentation to exit routes and the threat of fire spread from external cladding – presented an unacceptable risk to those floors which could not be mitigated with a waking watch. A waking watch was introduced to lower floors, served by two staircases, which sufficiently mitigated the risk to residents."
The original building was constructed in the 1920s for industrial/commercial use. In 2004/5 a refurbishment was carried out to convert the property into apartments. At this stage, five additional floors were added and the building now comprises nine storeys and a basement.
Building control approval
"The necessary building control approval was obtained at practical completion via an Approved Inspector and not from Local Authority Building Control," said the Grey GR spokesperson. "Based on our investigations and findings, the building should not have been compliant with building regulations at the time it was completed."
Speaking on Friday 17 March, Toby Gray said: "Suffolk Fire and Rescue Service was pleased to meet with some residents earlier today, enabling them to receive the clarity they deserve and assurances on why we had no option but to issue a further prohibition notice for all of Cardinal Lofts.
"I am hopeful that everyone now realises that this decision wasn't taken lightly and was needed to protect not just residents but the waking watch and our firefighters, who could be seriously injured from being placed in an unnecessarily dangerous situation.
"We will continue to engage with all involved and hope to work together to find a safe resolution and a forward plan for remediation works."
The company that built Cardinal Lofts was liquidated in 2017 with the freehold sold to Grey GR, a subsidiary of a rail workers pension scheme RailPen. Grey GR is subject to separate court action taken by the government to force it to remediate fire safety defects – including unsafe cladding – at Vista Tower in Stevenage.
Update on Cardinal Lofts – Friday 17 March 2023 – YouTube video posted by Suffolk County Council