The Building Safety Bill, which was first announced in draft form in July 2020, was published on 5th July 2021 and outlined by then-Housing Secretary Robert Jenrick as the next "key step in an extensive overhaul to building safety legislation". The reforms are set to create "lasting generational change and a clear pathway for the future on how residential buildings should be constructed and maintained", affirms the UK Government.   
The Bill received Royal Assent on 28th April 2022, and has now completed all the parliamentary stages in both Houses to become an Act of Parliament – The Building Safety Act. 
Many of the measures included within the 252-page bill are likely to take between a year and 18 months to introduce, according to the Government.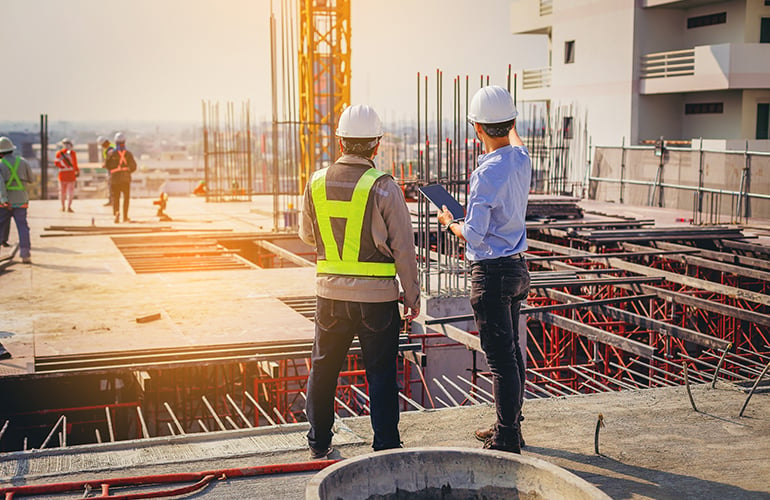 The Building Safety Bill is designed to give residents more power to hold builders and developers to account and toughen sanctions against those who threaten their safety, while a Building Safety Regulator will oversee the new regime and be responsible for ensuring that any building safety risks in new and existing high rise residential buildings of 18m and above (or of seven storeys or more) are effectively managed and resolved.
This will include implementing specific gateway points at design, construction and completion phases to ensure that safety is considered at each and every stage of a building's construction, and safety risks are considered at the earliest stage of the planning process.
These changes will simplify the existing system to ensure high standards are continuously met, according to the Government, with a 'golden thread' of information created, stored and updated throughout the building's lifecycle, establishing clear obligations on owners and enabling swift action to be taken by the regulator, wherever necessary.
The Bill also includes measures to prevent leaseholders from being responsible for the remediation costs of their building, with Michael Gove announcing plans to get developers and other industry stakeholders to pay for remediating defective buildings in January.
Originally, the Bill had included the compulsory appointment of a Building Safety Manager by building owners, but this proposal was removed in March, in order to protect leaseholders from further costs.
The latest on the Building Safety Bill
The Bill passed Royal Assent on 28 April 20222, and will apply to both current and future buildings deemed to be 'high-risk'.
What will the Building Safety Regulator do?
The new Building Safety Regulator will be at the heart of the reforms. Housed in the Health and Safety Executive (HSE), it will be responsible for overseeing the "safety and performance of all buildings".
The three broad functions of the Building Safety Regulator will be to:
"Implement the new, more stringent regulatory regime for higher-risk buildings"
"Oversee the safety and performance of all buildings"
"Assist and encourage competence among the built environment industry, and registered building inspectors"
Housing Secretary (at the time of the Bill's launch) Rt Hon Robert Jenrick MP said:  "This Bill will ensure high standards of safety for people's homes, and in particular for high rise buildings, with a new regulator providing essential oversight at every stage of a building's lifecycle, from design, construction, completion to occupation.

"The new building safety regime will be a proportionate one, ensuring those buildings requiring remediation are brought to an acceptable standard of safety swiftly, and reassuring the vast majority of residents and leaseholders in those buildings that their homes are safe."
The reforms will seek to tackle bad practice head on, building on Dame Judith Hackitt's review of Building Regulations and Fire Safety, which highlighted a need for significant cultural and regulatory change.
Under the proposals, the Government is more than doubling the amount of time, from six to fifteen years, that residents can seek compensation for sub-standard construction work. Announced shortly before the Bill's publication, leaseholders and Labour have argued that this change is likely to bring "little relief", due to the costly and time-consuming barriers to mount legal action, while many developers that may have fallen under the scope no longer exist for leaseholders to take action against.
The changes will apply retrospectively. This means that residents of a building completed in 2010 would be able to bring proceedings against the developer until 2025.
These reforms also include new measures which apply to those seeking compensation for shoddy refurbishments which make the home unliveable.
---
---
New measures in the Building Safety Bill introduced will be said to:
Ensure there are clearly identified people responsible for safety during the design, build and occupation of a high-rise residential building
Establish a Building Safety Regulator to hold to account those who break the rules and are not properly managing building safety risks, including taking enforcement action where needed
Give residents in these buildings more routes to raise concerns about safety, and mechanisms to ensure their concerns will be heard and taken seriously
Extend rights to compensation for substandard workmanship and unacceptable defects
Drive the culture change needed across the industry to enable the design and construction of high-quality, safe homes in the years to come
The Bill will include powers to strengthen the regulatory framework for construction products, underpinned by a market surveillance and enforcement regime led nationally by the Office for Product Safety and Standards (OPSS).
The national regulator will be able to remove products from the market that present safety risks and prosecute or use civil penalties against any business that breaks the rules and compromises public safety.
On the passing of the Building Safety Bill into the Building Safety Act, Peter Baker, Chief Inspector of Buildings, said:
"The Building Safety Act introduces tough new measures for the safety and quality of buildings which will be enforced by the new independent regulator being established in the HSE.

"I call on everyone involved in the design, construction and management of buildings in England to now step up, get ready for the changes, and work together to drive the necessary culture change to protect people and deliver safe and good quality buildings."
The Bill also contains measures to protect leaseholders by providing a legal requirement for building owners to explore alternative ways to meet remediation costs before passing these onto leaseholders, along with evidence that this has been done.  The Government notes this "builds upon the £5billion investment in building safety" to fund the replacement of unsafe cladding for residential buildings 18m and over in England, alongside a new levy and a tax to ensure that industry pays its fair share towards the costs of cladding remediation.
Developers will also be required to join and remain members of the New Homes Ombudsman scheme, which will require them to provide redress to a homebuyer, including through the awarding of compensation. Developers who breach the requirement to belong to the New Homes Ombudsman may receive additional sanctions.
Residents' role
Following the numerous complaints from Grenfell residents that their concerns were not listened to before the events of June 2017, the Bill is also making greater provisions for improved communication. Responsible persons will have to "listen and respond to residents' concerns", while occupants will also have access to safety information regarding their building.
Residents will be entitled to receive key information about the safety measures in place with new rights to request access to detailed information where appropriate.
Chair of the Independent Review of Building Regulations and Fire Safety Dame Judith Hackitt said:  "I am delighted that we have reached this important milestone for the Building Safety Bill. It is vital that we focus on getting the system right for the future and set new standards for building safety.

"Residents and other stakeholders need to have their confidence in high rise buildings restored and those who undertake such projects must be held to account for delivering safe buildings."
Who will the Building Safety Bill apply to?
The provisions set out in the Bill will apply to building owners and the built environment industry. This includes those who commission building work and who participate in the design and construction process, including clients, designers and contractors.
The Bill creates powers to introduce new design and construction requirements that apply to high-rise residential buildings, hospitals, and care homes of at least 18 metres or at least seven storeys. The Bill also introduces new occupation requirements for existing and new high-rise residential buildings of 18 metres and above (or at least seven storeys).
Those involved in the commissioning, design, construction, or refurbishment of high-rise residential and other in scope buildings will have new formal responsibilities to comply with building regulations. It will also aim to provide residents of those buildings within scope with greater powers and means of communication to building owners.
Powers within the Building Safety Bill will be used to make regulations that place duties on those who procure, plan, manage and undertake building work. These regulations will be made using secondary legislation and will be subject to consultation once the Building Safety Bill has gained Royal Assent.
The Government has published several factsheets to help those roles that will be affected by the Bill understand what may change, available here.
How long will the Building Safety Bill take to become law?
In the UK, a Bill does not become law until it has received Royal Assent, which follows approval from both the House of Commons and House of Lords after scrutiny.
The Building Safety Bill has now received Royal Assent (28 April 2022).
Following this, the various provisions are expected to come into force within two to 18 months after Royal Assent, dependent on the level of work involved. Some key expected timelines for fire safety professionals to be aware of (dates are related to the time after the Bill achieves Royal Assent) include:
Changes made to the Regulatory Reform (Fire Safety) Order 2005 – Within 6-12 months
Additional powers for the regulation of construction products – Within 6-12 months
Building Advisory Committee and Industry Competence Committee established within the Building Safety Regulator (12-18 months)
Mandatory registration of Building Inspectors, Building Control Approvers, Occurrence Reporting and registration of occupied high-rise residential buildings (12-18 months)
New duties on the accountable person to manage building safety risks (12-18 months)
Golden threat of information (12-18 months)
The Government has published a full transition plan for the Bill, here. 
Read the Building Safety Act and its progress through parliament, here.
The Bill is one of several pieces of legislation and guidance being implemented by the UK Government to improve building safety, and follows the publication of the Fire Safety Act earlier in 2021. Follow the latest news and updates, below.