The UK's Building Safety Minister, Stephen Greenhalgh, has added pressure to the calls for cladding executives who supplied materials for the Grenfell Tower to face the ongoing inquiry.
In a tweet made on Sunday 3rd January on Twitter, Mr Greenhalgh said it was "Time for these @arconic executives to step up to the plate" and appear before the inquiry.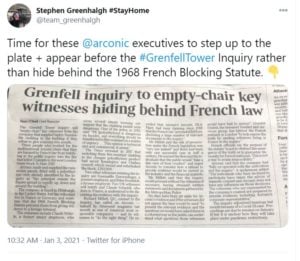 The comment was made in relation to the ongoing legal dispute over three current and former Arconic executives based in the French division of the US firm that supplied combustible cladding to the Grenfell Tower. The witnesses – Claude Wehrle, Peter Froehlich and Gwenaëlle Derrendinger – are being called upon to provide evidence and account for their role in the manufacturing, testing and marketing of the materials, but are citing a French blocking law from 1968 as a reason to refuse attendance.
The French Blocking Statute was originally enacted in 1968 in response to US antitrust investigations into French shipping companies, and is designed to protect French citizens and corporations. As law firm, Bryan Cave LLP, explains: "In essence, the French Blocking Statute prohibits any communication of economic, commercial, industrial, financial, or technical documents or information to be used in evidence in legal proceedings outside of France…"
However, The Guardian reported in December that a French official source has said that its government's position was that the inquiry's requests "do not appear to fall under the scope of…the French blocking statute", and it does not share the views of the Arconic executives.
Two UK-based executives are expected to give evidence, while another, Claude Schmidt, is holding out for "certain conditions" to be met before attending.
The dispute has been ongoing since November, when the refusals to appear were made public by the inquiry.
Keep up to date with the latest from the Grenfell Tower Inquiry.