The highly regarded Engineers of Tomorrow apprenticeship competition will once again take place at IFSEC and FIREX between 16-18 May in London, with the winners set to compete in the security and fire WorldSkills UK finals.
What are Engineers of Tomorrow and WorldSkills UK?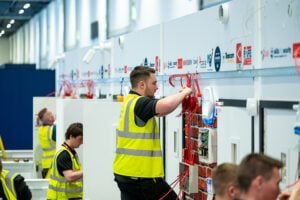 The Engineers of Tomorrow (EoT) competition helps to raise the profile of engineering apprenticeships and the opportunities they represent within the sector, as well as showcasing the talent of the next generation.
Taking place at IFSEC and FIREX International each year, winners of regional heats compete in a live installation challenge at the show, which takes place at London's ExCeL between 16-18 May in 2023.
The process involves two separate competitions – one for electronic security systems, and the other for fire systems.
The winners of Engineers of Tomorrow will then proceed to the esteemed WorldSkills UK (WSUK) LIVE competition – the nation's premier skills, apprenticeships and careers event. Both the electronic security and fire competitions will be represented at both EoT and WSUK – underlining the value of both competitions to the wider UK skills industry.
---
Hear more about the Engineers of Tomorrow and WorldSkills UK process from the SSAIB's Training Manager, Trevor Jenks, at last year's IFSEC and FIREX, below:
---
The Engineers of Tomorrow & WorldSkills UK 2023 process
27 February-24 March: Registration open
4-29 April: Knowledge-based online assessments take place
16-18 May: Engineers of Tomorrow finals at IFSEC and FIREX (ExCeL, London) – Winners of both competitions go on to compete at WSUK
July: Announce national finalists
September/October: Training bootcamp for WSUK finals
November: WorldSkills UK National Finals
December – Winners announced at the Security & Fire Excellence Awards (JW Marriott Grosvenor House, Park Lane, London)
Find out the winners of 2022's competition, here >>
Stakeholders of the Engineers of Tomorrow competition are IFSEC, FIREX, Skills for Security, CSL, NSI, SSAIB, and Texecom Academy, while it is also supported by the British Security Industry Association (BSIA), BAFE and WorldSkills UK.
In addition, several manufacturers have demonstrated their own commitment to the event. As part of a three-year commitment, Texecom and CSL both donate equipment to be used in the heats, whilst C-Tec and Apollo Fire Detectors – both part of the Halma Group – donate products for the fire competition.
---