Download the Fire Safety in 2020 eBook, as IFSEC Global and FIREX International keep you up to date with the biggest stories of the year, including new legislation, Grenfell Tower Inquiry revelations and how the COVID-19 pandemic affected professionals in the sector.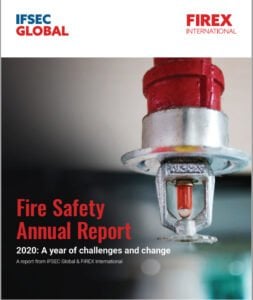 In a year filled with uncertainty, the fire safety industry met challenges head on. The impact of coronavirus may have dominated working practices, but fire safety professionals continued to fulfil vital life safety work, receiving deserved recognition as key workers.
Three years on from the devastating Grenfell Tower Fire, revelations of the Inquiry continued to shock the industry. Several findings that came out of 2020 made it clear that a significant step-change in cultural attitudes is required if building safety is to be improved.
Regulation is part of this process of change, and two major pieces of legislation were introduced by the Government. Both the Fire Safety Bill and Building Safety Bill are expected to introduce greater clarification on responsibilities and enhanced scrutiny of building practices in England moving forwards.
All this and more is covered in the free, downloadable eBook from IFSEC Global and FIREX International, which includes a nine-step process for improving firestopping procedures and a round-up of the biggest fire safety prosecutions and news stories in 2020.
Our thanks also to Ian Moore, CEO of the Fire Industry Association, for his views in an exclusive foreword comment.
Chapters
Coronavirus and the fire safety sector
A year of legislative change? The Fire Safety Bill and Building Safety Bill
The Grenfell Inquiry – 2020 revelations
Fire safety and sprinklers in schools
Firestopping – How do we get it right for the future?
News and prosecutions round-up
Top influencers in fire safety 2020
Simply complete the short form to download this free eBook.
The 2021 Fire Safety eBook is now available to download. 
Sponsored by FIREX International.