There are many reasons a business might require more control over the storage and retention of its video surveillance data. Some industries have tight regulations around video retention, or they may require storage of video both off-site and on-premises. Unfortunately, increasing video retention with traditional NVR/DVR video surveillance systems can be costly, on top of leaving video data vulnerable to loss and damages.
With the Eagle Eye Cloud VMS, owners and operators can use Cloud Video Replication to extend the capabilities of their existing video management systems by including a copy of locally stored surveillance video in the cloud.
In this webinar, the Eagle Eye Networks sales engineering team discusses how off-site cloud backup can be added to leading VMS providers with Eagle Eye Cloud Video Replication. The topics covered include:
An overview of cloud video replication
The benefits of cloud video replication
How to set up cloud video replication
Things to consider with an existing VMS
To see the full webinar for FREE, complete this short form.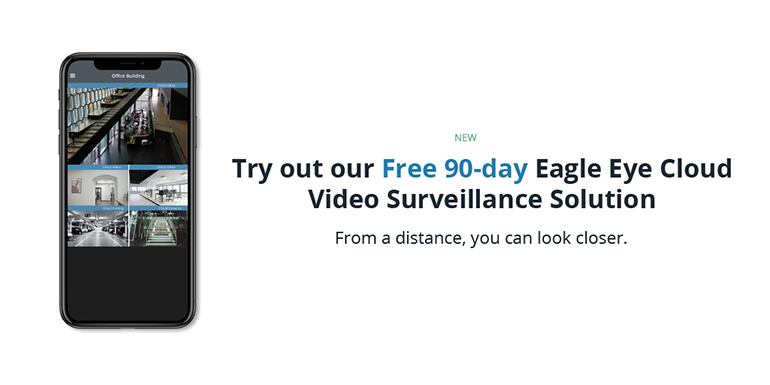 Free 90 day pilot from Eagle Eye Networks
We are all experiencing what distance means. At Eagle Eye Networks, we realise that social distancing creates a gap between our resellers and their customers, and we must adopt new models for engagement. Now more than ever, business owners need the ability to operate their business from anywhere – and they need it now. Having a cloud-based offering to provide customers can help them seamlessly transition to remote businesses with a secure, flexible, and affordable video surveillance platform.
New installations between April 23rd and July 1st, 2020
Free Hardware Eagle Eye 304 Bridge and Switch
Eagle Eye Cameras provided
No subscription fees for 90 days
Unlimited users access
Free use of our Eagle Eye Camera Analytics
Free integration with Renowned Access Control companies like Salto and Brivo