IFSEC Global sits down with Lars Paulsson and Erik Hoffmann from audio communications expert Zenitel, to discuss why networked audio devices are becoming an integral part of the security and safety ecosystem.
No longer do security systems simply comprise a lone CCTV camera generating distorted feedback to a security guard. Instead, integrated solutions work together to ensure access control systems and surveillance cameras provide a much more well-rounded and responsive information management platform, communicating between each other and offering genuine insight into risks and potential breaches.
And increasingly it seems, network audio solutions are becoming a key part of this process. As a communication device, it can provide the final piece of the jigsaw to ensure security and safety measures are met, with devices now more interoperable with access control and surveillance platforms than ever before.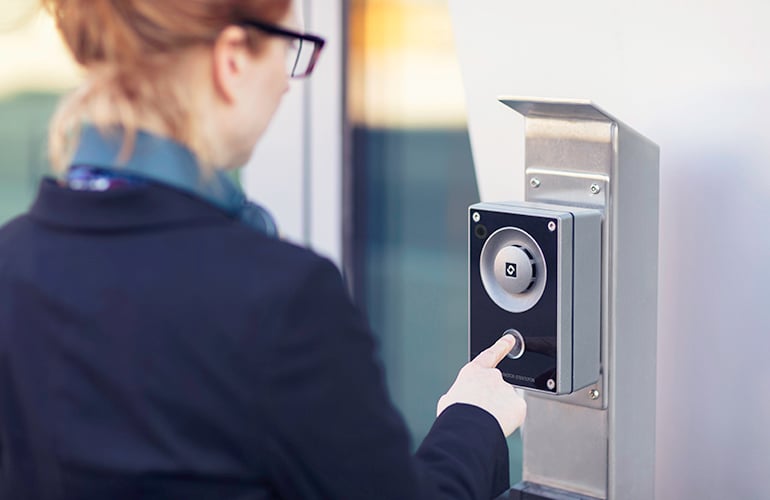 This, explains Zenitel, is why businesses need to be considering the use of audio devices to operate within their own systems. As technology continues to evolve, the company believes that audio is set to play a key role in the future of biometric systems and everyday life, with audio analytics playing a major part.
It's certainly a belief met by those in the likes of Silicon Valley, too. Worldwide shipments of smart audio devices reached nearly 100 million units in Q1 2020, while Amazon's Alexa and Apple's Siri are now as much household names as Dyson and Sky TV.
Networked audio and its role in improving security
Why then, is an integrated audio solution so beneficial to an overall security system? "Put simply, communication," answers Lars Paulsson, Executive Vice President at Zenitel. "For any security team, this is vital. Any security and safety system ultimately needs three key parts: access control, video surveillance and the ability to communicate.
---
---
"We now have integrations with all the major platforms in the security industry – our solutions are interoperable and therefore easy to combine with VMS platforms from major vendors such as Genetec and Milestone, as well as access control systems from AMAG, LenelS2 and many others. We're committed to the open standards route, so customers are able to provide the most well-rounded system to provide the highest levels of security and safety."
"And the quality in our audio systems is now excellent, so end-users no longer need to be concerned with muffled tones or poor-quality sound, which could result in miscommunication."
Cyber security remains a concern for many when adding new devices to networks. Hackers are always on the lookout for devices on internal networks that may be vulnerable to attack, often utilising backdoors in physical security devices to gain access to the entire system. Working with major customers in sectors such as healthcare and transport, Zenitel is quick to highlight its work in this sphere.
"We've been driving cyber security initiatives in our products for several years," explains Erik Hoffmann, Head of Product Management. "It is crucial that installers and end-users can be confident that when integrating our audio devices onto a network, it will be robust and well protected – both in the physical and cyber environments. We're a member of the  for Internet Security and were one of the first to implement CIS controls into audio devices."
How audio has evolved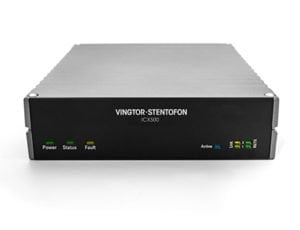 While it's taken a little longer than its surveillance counterpart, audio devices have experienced a 'revolution' in connectivity and integration with other systems since the move to an IP-based solution, as Zenitel's Head of Product Management, Erik Hoffmann, explains.
"We launched the first major IP/SIP-based products around 2006. Since then more and more devices have been able to integrate into a single system. As well as being quicker and more advanced than analogue systems, the move has enabled greater integration with partner technologies, such as video management services and access control systems.
"Going forwards, we're now moving on to utilising edge architecture. Edge devices are far more powerful and advanced than we've previously seen, in a cost-efficient way. This won't take away from the importance of the cloud or the local server, but instead edge solutions will leverage the strengths of computing in the cloud and at the edge – bringing unprecedented levels of security, scalability and resilience."
Audio analytics: The future of networked audio
Like many industries, COVID-19 has had an impact on the sector – though Lars and Erik believe this could actually result in a greater uptake of networked audio systems. As a touchless method of communication to relay information to occupants, it provides an easy method for interaction.
Lars expands on this point: "We certainly believe there will be a growing uptake of biometric and touchless devices, of which audio can form a key part of such a solution. I believe this will be because of two key developments. There is the need to interact and communicate with individuals moving in and out of spaces, and with this comes the need to provide frictionless access without physical intervention. Audio provides a solution to both challenges."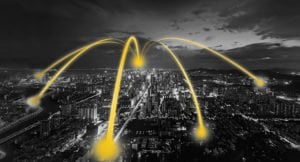 It's not just COVID, either, that is set to affect the growth in the audio market. While analytics have been a relatively standardised part of video surveillance devices for some time now, it would appear audio is now receiving investment in this field.
"It took some time for users to really understand and utilise analytics in video, because the concept was relatively new to many. However, with customers now more aware of this type of technology, audio analytics is proving beneficial almost straight away. We're now working with technology partners who can provide possibilities such as voice identification, mood identification (where tone and volume of speech is assessed) and gunshot identification," explains Erik.
Speaking to Lars and Erik, it appears that networked audio devices are set to play an increasingly important role in the entire security and safety ecosystem. As Lars summarises: "The ability to hear, be heard and be understood is crucial to the role of all security professionals, in all environments."