Avigilon's new 7K high definition video surveillance camera needs just one camera to monitor an area the size of Trafalgar Square.
At IFSEC International 2015 Dr Mahesh Saptharishi – Chief Technology Officer of Avigilon and top of the rankings for IFSEC's most influential people in security – demonstrated the capabilities of 7K HD Pro Cameras with an image of Trafalgar Square, demonstrating the ability to clearly identify street names or the destination of a bus.
7K HD Pro Camera
Boasting 7,000 horizontal pixels with 30 million total pixels or 30MP this innovative camera offers best-in-class image quality. The camera, says Saptharishi, allows operators to make quick decisions and capture footage that is immediately actionable.
"The 7K HD Pro cameras have a 35mm full-frame sensors that are often found in professional DSLR cameras," Saptharishi said.
"You get amazing low-light performance at 30MP with amazing forensic detail. You won't be able to tell the difference between images taken with the 7K and those taken by a professional DSLR camera."
The 7K HD Pro provides wide-area coverage yet still maintains situational awareness, which Avigilon demonstrated filming across the River Thames outside the ExCeL during IFSEC International: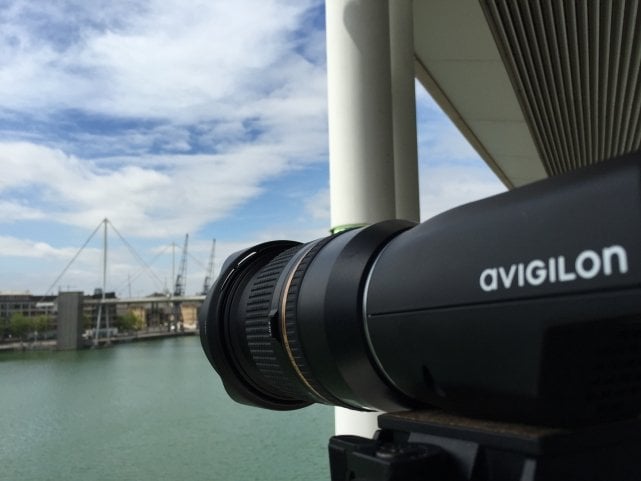 Self-learning analytics
Dr Saptharishi discussed about how an end-to-end security system which includes self-learning analytics, reduce incident impact damage and loss.
"The security challenge is addressed towards attention span because poor image quality or additional cameras accelerate degradation," he said.
The successful key is to mix sharper and smarter solutions which include more useful details in surveillance.
Users can benefit from using smarter self-learning analytics:
Learn from environment and from responses;
Set up is easy and not tedious
Extend to reach of your staff
manage remote sites
cover more areas
It is also important to evaluate the real-time response in the workflow because analytics system detect intruders using logic-drivers alarms.
In addition to this, there is the possibility to carry out instant detection.
"Obviously, such a system is important to check performance and safety and to identify many criminals in short time in many places, such as airports, stadiums, squares, shopping centres," Saptharishi said.
"In this way, it is possible to reduce theft, vandalism and harassment."
Watch our interview with Dr Mahesh Saptharishi below: