Touchless access control is nothing new to the security sector, but its evolution and importance have been accelerated this year, as governments and health advisors have highlighted the need to reduce the spread of germs in their efforts to combat the COVID pandemic. What better time to sit down with Philippe Niederhauser from Touchless Biometric Systems, then, as we discuss the evolution of biometrics, its role in secure, convenient access control, and the company's latest innovations.
"Touchless identification convenience. That's the future."
Perhaps you'd expect such a statement from the Head of Sales and Marketing at Touchless Biometric Systems (TBS) – a company specialising in secure access control and time and attendance solutions that utilise biometrics technology. Working with integrators across the world, and companies including the likes of Siemens and Honeywell, TBS has become a key figure in the industry since its inception in 2003, now managing a reseller network of over 100 security companies worldwide.
It is, however, a statement that is difficult to contend with, given everything the world has been through in 2020. Businesses have been searching like never before for new solutions that allow their employees and visitors to move in, out, and around their premises with minimal contact points, in an effort to provide 'COVID-secure' workplace environments.
Couple this situation with the fact that accessibility to biometric technology has been greatly improved in recent years as costs have decreased, and a growing number of companies are realising the benefits a biometrics access solution can provide. TBS believes it offers much more than simply a product or piece of software, however.
"It's not just about cost, it's also integration that is important. Having a standalone biometrics device isn't the true benefit. It's a much more complex process, and one that requires expertise in everything from data protection, to encryption, to integration with the overall security solution in order to maximise what a biometrics solution can offer," outlines Philippe.
"And that's where Touchless Biometric Systems can truly provide value. We were, for instance, the first company to offer web APIs to make it easy to integrate with third-party applications. We work closely with all our integrator partners to ensure we can provide them with the best fitting biometrics system for each project, as well as any additional customisation needs to adapt for specific environments."
Fingerprints and facial recognition
Crucially, of course, a biometrics system must offer security. The most commonly utilised way of biometric identification remains the fingerprint, and TBS is quick to promote the protection this offers to users.
Due to the unique digital signature of a fingerprint, businesses can be assured that a high base level of protection is provided, while remaining a quick method of identification. And TBS has developed a touchless solution in this field, whereby the device takes a high-accuracy touchless scan of the fingerprint.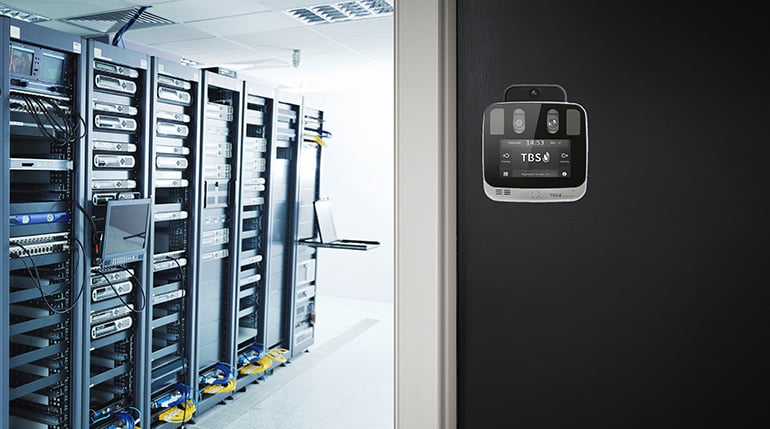 "Biometric identification offers users so much more, as we move into an ever-increasing digitalised environment," continues Philippe. "Traceability is crucial, and this is what a biometrics signature, such as a fingerprint, can provide. Cards can be cloned, credentials copied, but a fingerprint is very unique."
Facial recognition has now been around for some time, becoming popularised as leading phone manufacturers integrated it within their own security processes for personalised access. Philippe, however, reflects on the security concerns that remain over the tech. While in agreement that its accuracy has improved dramatically, TBS does not believe it can be 100% relied upon, given technology exists that has the ability to 'trick' such software.
Instead, TBS prefers the use of iris identification, which is much harder to imitate. In addition, with face masks increasingly utilised, the number of identification points are drastically reduced for facial recognition, whereas the eye remains uncovered.