Engineers of Tomorrow helps to raise the profile of engineering apprenticeships and the opportunities they represent within the sector. Taking place at IFSEC and FIREX International each year, winners of regional heats compete in a live installation challenge at the show. In addition, the winners of the electronic security competition will proceed to the final of WorldSkills UK LIVE, the nation's premier skills, apprenticeships and careers event.
The competition, which encompasses two separate events – one for electronic security installers, and the other for installers of fire safety devices – aims to help tackle the growing engineering skills gap and attract and retain the next generation of security and fire systems installers. While the 2020 competition was unfortunately unable to go ahead, due to the impact of the coronavirus pandemic, 2019's competition saw over 100 entrants take part, a number only set to increase as the competition continues to grow.
Dates to keep in mind for 2021 are currently as follows:
Regional heats for both security and fire will run between February and April 2021
Winners will then go on to compete at Engineers of Tomorrow, which is set to take place at IFSEC International in London, between 12-14 July
Preparation boot camp in August 2021 for the security WorldSkills finalists
WorldSkills UK Live will take place in November 2021
The winners of the security and fire competitions will be announced at the Security and Fire Excellence Awards, taking place on 23 November 2021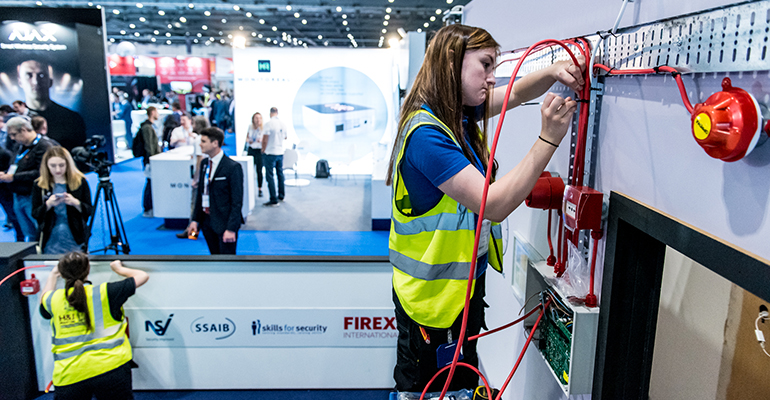 The 2021 event will see a few changes to previous years, not least because of COVID restrictions, however, regional heats will still take place across all four UK nations, and the electronic security competition semi finals, and fire installation competition finals, are planned to take place at IFSEC in London in July. The finalists for the security event will go to World Skills UK National Finals in Birmingham, due to take place between 18-20 November.
This year, the regional heats will take the form of a knowledge-based assessment which will be completed online and invigilated by an employer or tutor. There will be two separate assessment for fire and security, with separate online links. Students who wish to compete in both competitions need to register for both competitions separately.
The heat timings are expected to be:
Regionals (passives) – 90 minutes
National Qualifier/Fire Final (EoT at IFSEC) – 6 hours
National Final (WorldSkills) – 2 days
Stakeholders involved in the IFSEC & FIREX Engineers of Tomorrow competition are Skills for Security, CSL, NSI, SSAIB, and Texecom Academy, while additional support comes from the BSIA.
---
---
In addition, several manufacturers have demonstrated their own commitment to the event. As part of a three year commitment to the highly respected competition, Hikvision, Texecom and CSL have all donated equipment to be used in the heats, whilst Advanced and Apollo – both part of the Halma Group – have donated products for the fire competition.
If you'd like to find out more about the Electronic Security Systems competition for Engineers of Tomorrow and WorldSkillsUK, you can read the technical handbook for 2021, here.