Engineers of Tomorrow helps to raise the profile of engineering apprenticeships and the opportunities they represent within the sector. Usually taking place at IFSEC and FIREX International each year, winners of regional heats compete in a live installation challenge at the show. In addition, the winners of the electronic security competition will proceed to the final of WorldSkills UK LIVE, the nation's premier skills, apprenticeships and careers event.
The competition, which encompasses two separate events – one for electronic security installers, and the other for installers of fire safety devices – aims to help tackle the growing engineering skills gap and attract and retain the next generation of security and fire systems installers. While the 2020 competition was unfortunately unable to go ahead, due to the impact of the coronavirus pandemic, 2019's competition saw over 100 entrants take part, a number only set to increase as the competition continues to grow.
Despite continued disruption due to the pandemic, the 2021 event is in full flow, with the finalists now having been revealed! The standards were once again extremely high this year, with over 160 entries across the two competitions. Congratulations to all those below who have made it into the final stages of the process:
Electronic Security Systems (WorldSkills UK finalists)
Richard Collingwood (JCI – Training Provider: Banham Academy)
Thomas Docherty (JCI – Training Provider: New College Lanarkshire)
Gianluca Mori (Banham Group – Training Provider: Banham Academy)
Lucas Hearn (Banham Group – Training Provider: Banham Academy)
Tony Steer (JCI – Training Provider: Banham Academy)
Peter Smylie (Beacon NI – Training Provider: South East Regional College)
Sean Kent (JCI – Training Provider: Banham Academy)
Owen Nelson (EFT – Training Provider: Skills for Security)
Josh Stewart (Assure Alarms – Training Provider: GTG Training)
Well done to those who made it to the National Qualifiers, just missing out on the WorldSkills UK finalist places: Oliver Moye (Camera Security), Ben Bryans (CSS Ltd), Adam Smylie (Beacon), James McIntyre (EFT), and Adriana Burian (ACL).
Ben Blackledge, Deputy Chief Executive Officer, WorldSkills UK, said: "I want to offer my congratulations to all those that took part in our programme this year, especially the finalists. Our competitions and competition-based development programmes equip apprentices and students with the lifelong, world-class skills that will help increase UK productivity and competitiveness."
The programme has a real impact on those taking part, with 90% of previous entrants saying their career progression improved after competing, and 86% stating their personal and employability skills had improved.
Fire (Engineers of Tomorrow finalists)
Jessica Goodson (JCI – Training Provider: Banham Academy)
Leo Green (BK Fire Ltd – Training Provider: Skills for Security)
Tony Steer (JCI – Training Provider: Banham Academy)
Adam Smylie (Beacon NI – Training Provider: South East Regional College)
---
Find out more about some of the finalists, and why they'd encourage others to consider a career in the security and fire systems installation sector, here: Meet the WorldSkills UK and EoT finalists!
---
The Finals will be held on the 18th and 19th November at Skills for Security's dedicated training centre in Warrington, with a demonstration day to be held on the 17th November.
Winners of the security and fire competitions will be announced at the Security and Fire Excellence Awards, taking place on 23 November 2021.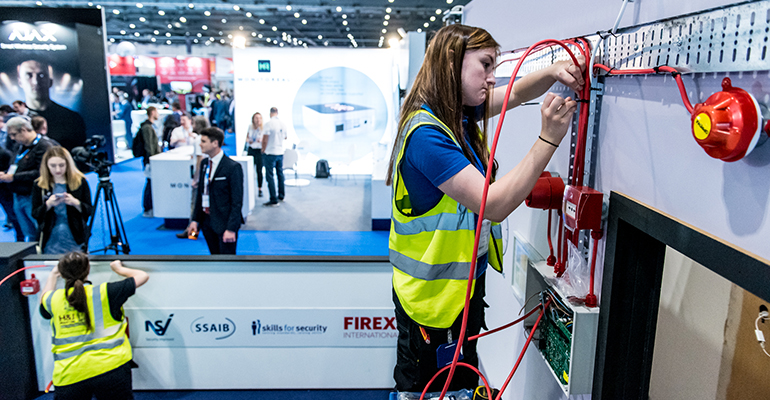 The 2021 event has seen a few changes to previous years, not least because of COVID restrictions, however, regional heats still took place across all four UK nations, and the electronic security competition semi finals, and fire installation competition finals, will continue. This year, the regional heats took the form of a knowledge-based assessment which was completed online and invigilated by an employer or tutor. There were two separate assessment for fire and security, with separate online links. Students who wished to compete in both competitions were required to register for both competitions separately.
Stakeholders involved in supporting and contributing to the IFSEC & FIREX Engineers of Tomorrow competition are Skills for Security, CSL, NSI, SSAIB, and Texecom Academy, while additional support comes from the BSIA.
---
---
In addition, several manufacturers have demonstrated their own commitment to the event. As part of a three year commitment to the highly respected competition, Hikvision, Texecom and CSL have all donated equipment to be used in the heats, whilst Advanced and Apollo – both part of the Halma Group – have donated products for the fire competition.
If you'd like to find out more about the Electronic Security Systems competition for Engineers of Tomorrow and WorldSkillsUK, you can read the technical handbook for 2021, here.