Innovative use of technology is transforming staff protection for one NHS trust. To find out how, IFSEC Global spoke to Kent Community Health NHS Foundation Trust (KCHFT) Security Manager Wayne Sherratt about this vision that could see his trust supporting the developing Integrated Care Partnerships in Kent. 
From the start of July, a new management structure was introduced across NHS England, designed among other things to encourage new efficiencies in the way health and care services are delivered.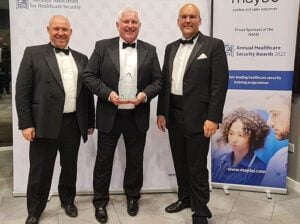 42 Integrated Care Boards (ICBs) were created across the English regions; new statutory bodies that bring together health trusts, local authorities, voluntary agencies, and other partners concerned with improving wellbeing for their local populations and with tackling healthcare inequalities. Each ICB will include a number of Integrated Care Partnerships (ICPs) which are collaborative networks of service providers. They include healthcare professionals, such as doctors, nurses, pharmacists, social workers, and hospital specialists; the voluntary and community sectors; local council representatives; and service users and carers.
In KCHFT, plans are well advanced to not only transform staff safety and security using innovative technology, but to provide direct communication links to their team managers and key advisors more efficiently than has ever previously been possible.
At a time when resources and staffing levels are under enormous pressure, these two developments – the reform of the NHS's regional management structures, and a ground-breaking application of security and safety technology – could be aligning at just the right moment.
The technology innovations are being led by the trust's Corporate Operations Service at KCHFT, and their Security Team.
---
We discussed the challenges facing the healthcare sector in depth with Roger Ringham, Chair of the National Association of Healthcare Security Professionals (NAHS) and Darren Chalmers Stevens of CriticalArc in episode 8 of the IFSEC Global Security in Focus podcast. Have a listen via the player below…