Smart building end-users want to effectively manage cost with flexible and functional solutions, an Omdia survey reveals. Access a free snapshot of the report, here! 
A world of hidden value from existing data is still being wasted by building owners and operators, reveals a new Smart Buildings Survey from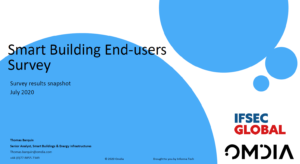 Omdia. Research indicates that 77% of end-users keep the data generated by their facilities, but 42% of them do not analyse building data from their buildings to identify variations and patterns that can support the buildings' operation and management. In addition, the survey reveals clear trends towards a greater interconnected environment.
This is according to an Omdia survey of 248 smart building technology end-users (including facility managers, IT managers, senior executives and security managers) conducted between March and April 2020.
Despite this figure, the results show that the building sector and end-users are willing to invest in smart building technologies and remain ambitious with regards to the goals they want to achieve with their solutions.
This is the first edition of Omdia's smart building end-users survey, which is part of the Smart Buildings Intelligence Service. The survey provides an in-depth understanding of the end-user's perspective on smart building technologies:
What do end-users recognise as the most compelling benefits of smart technologies for their buildings?
What do end-users recognise as the most compelling drivers to use smart building technologies for them/their organisation?
What are the main challenges and barriers for smart building technologies?
How do they use and analyse the data collected from their facilities?
To access a more detailed summary of the key findings, simply fill out the form below.
---