Now working with Apollo Fire Detectors – part of the Halma Group – Salvy Vittozzi has over 20 years of experience in the fire sector under his belt. With a background in the design of fire safety systems, IFSEC Global sat down with him to discuss the latest guidance in high-rise residential, the need for clearer legislative input and what lies ahead for the industry.
"In terms of legislative impact, the terribly unfortunate Grenfell tragedy is to residential, what King's Cross was to the commercial market," says Apollo's Salvy Vittozzi, as we discuss the breadth of new guidance and legislation being introduced for high-rise residential buildings since Dame Judith Hackitt first published her initial findings on the 2017 disaster.
He is, of course, referring to the dreadful fire that broke out at London's King's Cross underground station in 1987, which resulted in 31 deaths and 157 recommendations following a public inquiry by Sir Desmond Fennell. The major difference, Salvy notes, is that Grenfell hasn't just happened once – and still has the potential to happen again – so preventative measures to ensure such an event doesn't repeat itself cannot come soon enough.
While the public inquiry to the Grenfell Tower tragedy is ongoing, conclusions and guidance are becoming more formalised. The conclusion of the Fire Safety Bill and Building Safety Bill, expected this year, will aim to enforce stricter procedures and hopefully remove the reliance on interpretations – something that Salvy believes plays too much of a prominent role in decision making processes when designing and assessing building safety.
"Ultimately, too many stakeholders can influence 'interpretations' of the guidance," he explains. "The latest National Fire Chiefs Council (NFCC) guidance on Stay Put evacuation procedures is the clearest I've seen so far, but there is still a little bit of interpretation required on L5 – relating to heat detection in exposed areas."
Stay Put has been a contentious issue following the revelations of the Grenfell Inquiry, where the strategy was advised to residents. So too, has Waking Watch, whereby suitably trained persons continually patrol floors and the exterior perimeter of a building in order to detect fire, raise the alarm, and carry out the role of evacuation management. While Housing Secretary, Robert Jenrick, recently announced a £30m support package to replace expensive Waking Watch patrols with fire alarm systems, Salvy highlights the need for careful consideration from building managers on how this process is carried out.
"Unfortunately, simply installing a fire alarm system doesn't always immediately remove the need for Waking Watch – it's all down to the evacuation policy in each specific building, so all factors should be accounted for upon installation. Some residents may be more vulnerable than others, for instance, so a plan needs to be put in place to deal with these scenarios.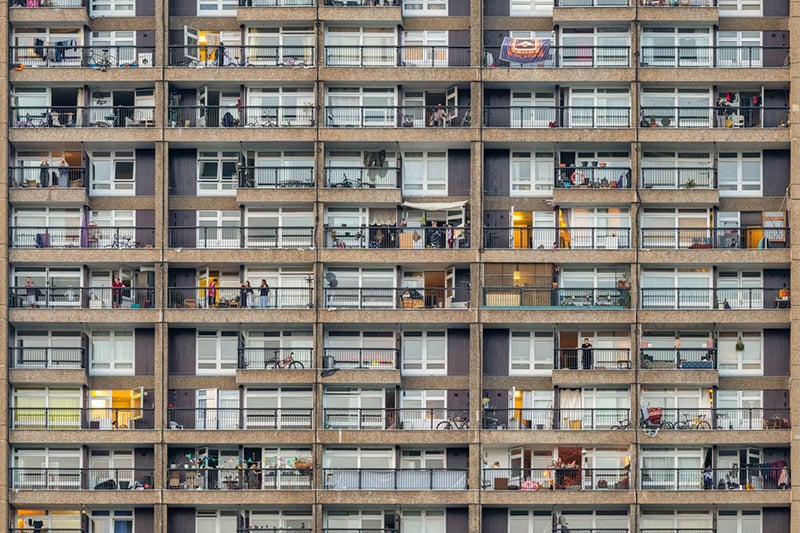 "We believe it's also important to think ahead when installing a fire detection and alarm system. Many of these are likely to be temporary systems, in place until the external cladding dangers are remediated, but if a system that is designed in accordance with NFCC guidance to meet BS5839 Part 1 category L5 is installed with futureproofing in mind in the first instance, the building could easily be converted to become a BS5839 Part 6 system or even a system that complies with BS8629. There's a sustainable benefit there, too, as the existing infrastructure can be kept in place instead of being thrown away."
This guidance is something Apollo has been working on with its sister company, Advanced. The two have created a dedicated hub on the subject, providing advice for stakeholders – everyone from tenants, through to local councils – on the NFCC guidance relating to a common area fire alarm system, designed to support a simultaneous evacuation alert strategy.
Salvy adds: "While both Apollo and Advanced have the solutions to provide this ongoing protection, such as Apollo's wireless XPander range of fire detectors, the key motivation behind this is providing the best guidance and best solution possible. We're keen to talk to any stakeholder in the process, but will always advise parties to speak with fire risk assessors and integrator partners as well. Every building's needs are different, and the fire protection, prevention and evacuation strategy should always be bespoke to that building."
With the plethora of information and legislation currently being released by associations and the Government, the guidance is sure to be welcomed by those affected.