To put it simply, fire doors save lives. Here, IFSEC Global provides a useful beginner's guide to fire doors, their purpose, and crucial features to bear in mind when specifying, installing or purchasing them as part of a passive fire protection strategy. 
What is a fire door and what are they designed to do?
Fire doors are specialist doors which have been tested against the elements and purpose-built to withstand roaring fires for as long as possible. They enable buildings to compartmentalise and delay the spread of fire from one area to another, and form a crucial part of a passive fire protection strategy.
Certified fire doors will be given a fire-resistance rating, which details the length of time the doorset and its materials will be able to withstand smoke and fire – either 30 or 60 minutes, depending on the rating. They are fitted with intumescent strips (or seals) which expand to fill the gap between the door and the frame.
Fire doors have a few vital safety features and really can be the difference between life and death. Two of the most important functions fire doors have are:
When closed, they form a barrier to stop the spread of fire
When opened, they provide a means of escape
How often should fire doors be checked? 
Because of their importance in protecting lives, it is imperative that fire doors receive regular inspections – frequency is likely to depend on many factors, including the age and condition of the door, though the British Woodworking Federation, which runs the annual Fire Door Safety Week campaign, says that periodic checks should be carried out every six months as a minimum.
However, newly occupied buildings may require more frequent checks in the first year of use, while doors with high traffic volume should be checked on a weekly or monthly basis. These fire doors are far more susceptible to damage because of more frequent use, and will likely also form an important barrier in the event of a fire to communal areas – particularly in multi-residential housing blocks.
Worryingly, the Fire Door Inspection Scheme (FDIS), which carries out checks on fire doors, found that three quarters of all fire doors inspected in 2021 in the UK were condemned as not fit for purpose. The scheme found similar results in 2019 after carrying out inspections, as it highlighted that all users should report maintenance issues and play a proactive role in ensuring faults are quickly addressed.
If you own a commercial or non-domestic property, there are strict regulations and guidelines to follow, ensuring the doors can withstand certain heats. Fire doors should always be fitted correctly by a competent installer, as they're a carefully engineered fire safety device. It is also imperative that reputable and trained fire door inspectors, such as those approved by schemes like FDIS, carry out fire door inspections and trained installers fit them to ensure they are fit for purpose.
Under the Regulatory Reform (Fire Safety) Order 2005 (FSO), landlords have a responsibility to ensure their properties and tenants are safe. The 'responsible person' has a legal responsibility under the FSO and can be criminally prosecuted if they do not fulfill their duties. The responsibility extends to the requirement for a fire risk assessment in all non-domestic buildings, including the common parts of flats or houses with multiple occupation.
In addition, the Fire Safety Act 2021, amended the Regulatory Reform Order to bring clarification on fire doors being included in fire risk assessments where buildings contain two or more sets of domestic premises (multi-occupancy). This means that Responsible Persons, such as the building owner or manager, must now review fire risk assessment for flat entrance doors in addition to the communal areas and implement a suitable system of maintenance.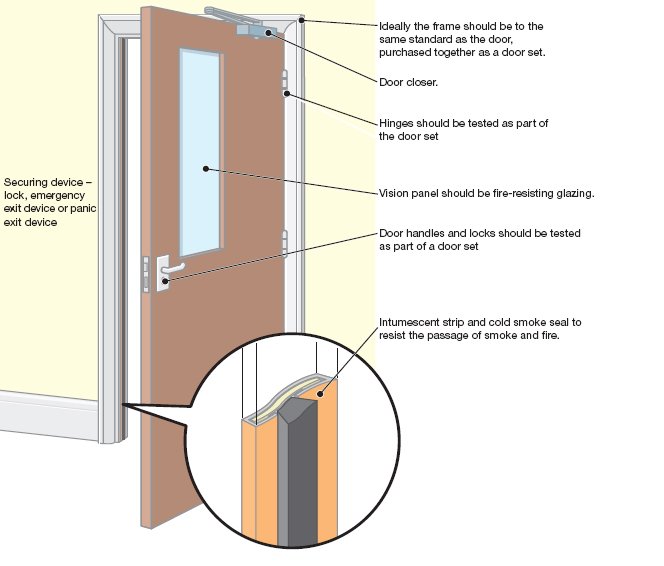 Features of fire doors
Here are some of the key features to look out for in terms of both domestic and commercial use:
Fire doors are made up of various components. The door itself is usually made from a solid timber frame, but they can sometimes be covered again in fire-resistant glass. This glass should be able to withstand exposure to the heat condition in a fire test for at least 60 minutes before it reaches a temperature high enough to soften it.
Around the edges of the door will be the intumescent seal or intumescent strip. An intumescent seal is chemically designed to expand when temperatures reach beyond 200°C to seal the gaps between the door and frame. These seals (or strips) usually come with either 30 or 60 minute ratings.
For a private premises, it is advised to install fire doors where the risk is most imminent, for example the kitchen, or rooms which house lots of electrical devices. If your property is a new build, it should have been subject to regulations ensuring certain doors are fire doors – check this with the developer. As it currently stands, fire doors are only legally required in Houses in Multiple Occupation (HMOs).
For commercial or non-domestic properties, liability lies with whoever is deemed the 'responsible person' for that property or the employer. For example, the owner of the property, or the person in control of the property for trade reasons would be responsible.
Thorough risk assessments must be carried out and it is advisable to get professional help with all fire-safety-related regulations. There is more to passive fire protection and fire safety than just fire doors; escape routes, lighting, warning systems and equipment checks are also required.
When you're choosing a door it's important to know what the different specifications mean. The FD code shows how many minutes of fire a door can withstand, for example an FD30 has been tested to withstand 30 minutes. The most common two codes are generally considered to be FD30 and FD60. The test procedures manufacturers use are specified in BS 476-22:1987 or BS EN 1634-1:2014.
Many deaths during fires are not from direct contact with the flames, but the consumption of smoke. With this in mind, keep an eye out for a doorset with cold smoke seals. These should be within the intumescent seal. Exceptions may apply where the leakage of the smoke is essential for detecting a fire early.
---
More on certification testing of timber fire doors can be found from Firesafe.
There is more information on fire resistant glazing and glass available from the Glass and Glazing Federation. 
---
5 step fire door checklist
Here are five areas to check when investigating fire doors (read full article here):
Certification – Fire doors should be third-party certified by an independent testing body, such as the BRE or UL. This should cover the overall doorset, such as the ironmongery, door hardware and door furniture which all make up the doorset and help ensure it functions properly. When hardware needs to be replaced, it is essential that the new items match the original specification, otherwise it may compromise the fire prevention credentials – as explained in this introductory guide from UL to fire door hardware testing and classification.
Gaps – The gaps around the top and sides of the door should be consistently less than 4mm when the door is closed – ideally light should not be seen under the door. This is to prevent smoke or fire from travelling through the tracks.
Seals – Intumescent seals or strips, which are designed to expand when a certain level of heat is sensed, help close off the remaining gaps of the door in case of a fire and a crucial mechanism in fire doors.
Hinges – All hinges should be firmly fixed and that there are no missing or broken screws. Only trained installers/inspectors should carry out maintenance work on fire door hardware.
Closures – Fire doors should always be fully closed and not wedged open – instances of fire doors being held open were found in the Bronx fire in New York in early 2022, and were also reported to contribute to the spread of fire in Grenfell Tower in 2017. Self-closing devices are often fitted to fire doors, though resident or tenant engagement should take place in all multi-occupied buildings to underline the necessity of not wedging fire doors open.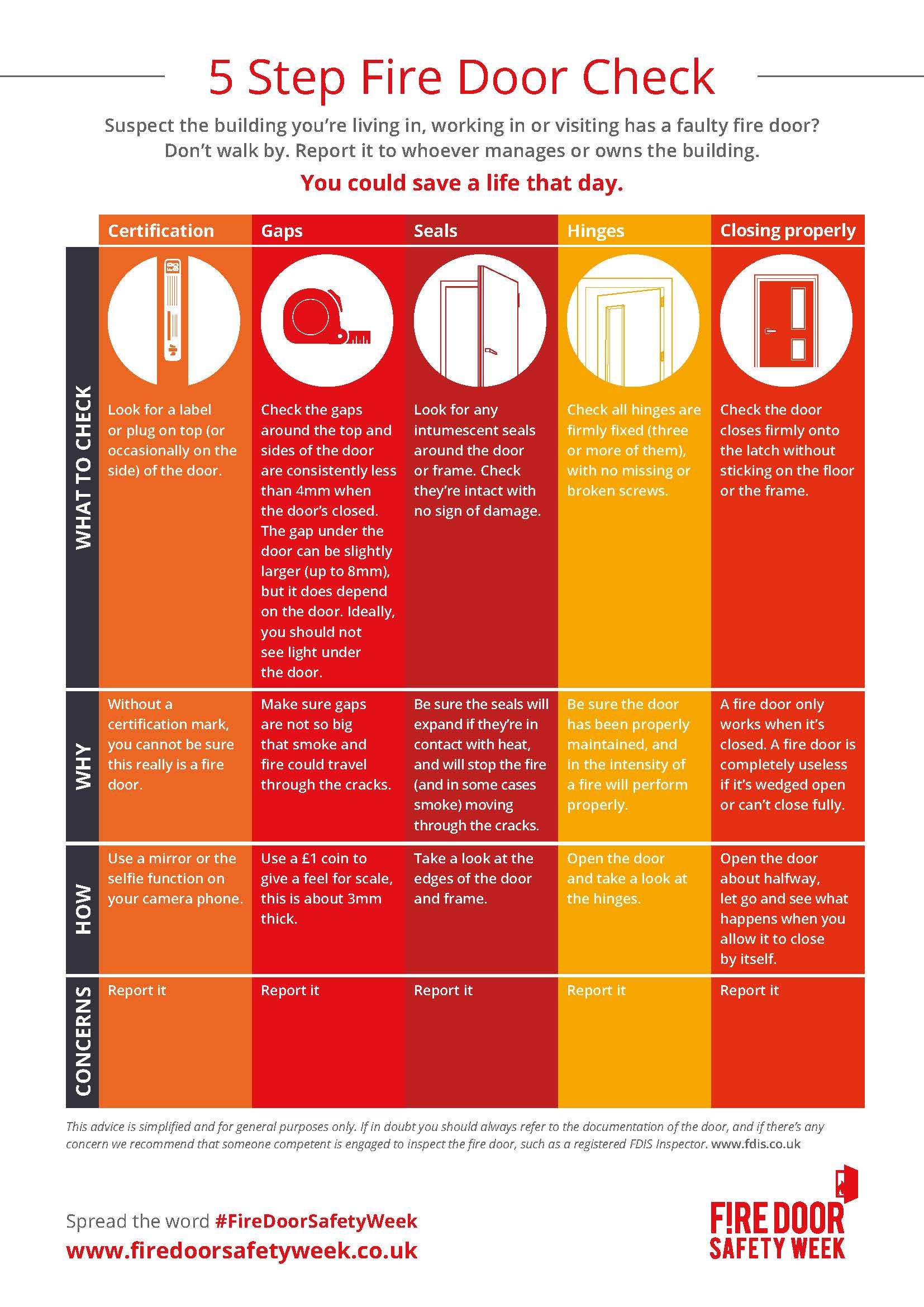 What are the regulations surrounding fire doors?
There are numerous pieces of legislation affecting fire doors in England, due to the various property types and requirements of each. Some of the most important regulations include:
Building Regulations apply for all new buildings
Existing buildings are governed by the requirements of the Regulatory Reform (Fire Safety) Order 2005 – recently extended to cover entrance doors in multi-occupied residences as a result of the Fire Safety Act

The responsibility for fire risk assessment in all non-domestic buildings including the common parts of flats and houses of multiple occupation falls to the responsible person

The Home (Fitness for Human Habitation) Act 2018 requires landlords in private and social sectors to ensure their properties are "free from hazards", which include exposure to uncontrolled fire and smoke – highlighting the need for effective fire doors
The obligation for safety as an employer falls under the Health and Safety at Work Act 1974
Ongoing inspection and maintenance should be carried out by qualified fire risk assessors and installers and the original fire door specification should be adhered to
Third-party certification of fire doors and doorsets provide evidence to all parties that independent tests have been carried out that demonstrate the ability of the door to perform in the event of a fire.
Check out IFSEC Global's interactive visualisation of what an effective fire door needs to comply with relevant standards and regulations: