The first and only CCTV hardware developer to take resolution into the 7K realm, Avigilon is a highly respected video surveillance company headquartered in Canada.
History
Avigilon is a Canadian company that specialises in the development, design and sale of video surveillance and management, access control and video analytics solutions. Founded in 2004 it posted its first EBITDA profit in the financial year ending 31st December 2009 (FY9) and floated on the Toronto stock exchange in 2011.
Avigilon has since invested heavily in its domestic and international expansion. It acquired access control company RedCloud Security for US$17m in 2013, followed by video analytics specialist VideoIQ for US$32m in 2014, and the patent portfolio of video analytics firm ObjectVideo for US$80m in 2014.
Market position
An aggressive business strategy has delivered considerable financial return and Avigilon remains one the largest players in a global security and surveillance market.Avigilon's turnover has grown at a compound annual growth rate (CAGR) of 71% over the last 9 years to reach US$354m in FY16, yielding adjusted EBITDA of US54m (source: Avigilon FY2016 company report)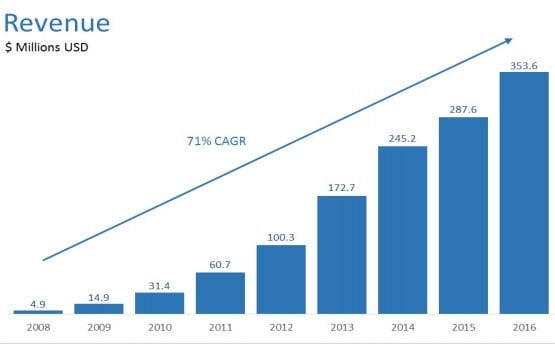 Avigilon serve many verticals including  retail, banking, education, casinos, critical national infrastructure (CNI) and transportation, with high profile customers including Miami Dolphins' Hard Rock Stadium, the Universities of Tennessee and Sydney, King Abdulaziz International Airport in Saudi Arabia, the City of Pittsboro and the Old Bailey in London.
Avigilon technologies
Avigilon's flagship Control Center network video management software is now in version 6.6 having been regularly updated to support emerging security and surveillance hardware.
Control Center allows users to view live and recorded video, monitor events, advanced image search and digital zoom, and to view remotely on mobile devices.
Avigilon delivers a wide range of HD cameras, recorders and edge solutions with a particular emphasis on providing big megapixel IP cameras with embedded video analytics solutions.
Its latest hardware includes cameras with multiple sensors and individually configurable camera heads that provide several viewpoints from a single platform to minimise blind spots. Avigilon also introduced 6K 24MP and the world's first 7K 30 megapixel HD cameras as well as 4k (8mp) and 5K (16pm) cameras in 2015.
The company has invested a lot of time in the development of innovative self-learning video analytics. It recently launched a deep learning AI search engine (Appearance Search) able to search hours of video footage to find specific persons of interest across multiple cameras, tracking their route and last know locations.
Elsewhere a partnership with security firm G4S involves an 8 week trial of video analytics to prevent smuggling in UK prisons, tracking the movement of people at the prison's perimeter who often throw drugs and other contraband over prison walls.
In 2015 IFSEC Global readers voted for Dr Mahesh Saptharishi, Avigilon's Chief Technology Officer, as  most influential in security and fire on account of the technical innovations the company brought to market.
Avigilon and installers/integrators
Avigilon's sales and distribution model is based on a business to business (B2B) rather than business to consumer (B2C) model that relies heavily on a large network of installers, resellers and systems integrators in Canada, US, UK, EMEA, Asia Pacific, and Latin America. UK installers include Contact Security, API, iFacility, Amax, Sonic Security Services, Eclipse (IP), Vuetek, AlertSystems, Advance Security and iC2.
Rather than selling direct, Avigilon's own sales staff work with those partners to develop security and surveillance solutions which are tailored to individual customer requirements in its key industry verticals. The company runs an extensive global partnership programme that offers various incentives to its partners, including silver, gold and platinum certification; co-branded sales and marketing material; and access to market development funds and financial rebates.
Latest Avigilon articles