Choosing the right security cameras is a decision that businesses of all sizes and from all industries face.
But as surveillance evolves and software advances, CCTV cameras are bringing business benefits way beyond just security. As a result, making the right choice can have more profound benefits than ever before.
Below are 10 questions that businesses must ask themselves before investing in a new surveillance system.
Do the cameras need to be discreet or act as a visual deterrent?
The location and what you need to monitor will determine whether obvious or discreet cameras are required. Box cameras can be some of the largest and most obvious, reminding people that they're being monitored and reducing the chance of theft.
Dome cameras are the best to use for discretion due to their small half spherical-shape – the ultra-compact models are so small that they can fit in the palm of your hand. Lastly, PZT (Pan Tilt Zoom) cameras are good for monitoring expansive areas and following subjects easily.
Will the security cameras be used indoors or out?
Whilst most modern cameras can be used both inside and out, it's important to consider features such as mounting and housing. For use in extremely cold environments, choosing a camera which has a durable design and an inbuilt heater means it will have the ability to start up and operate despite the temperature.
In industries such as transport, for example, it's also important to choose a robust video surveillance solution which can operate reliably in harsh environments and where there may be a high level of vibration.
But it's not just outside cameras that may need environmental housing. In industrial environments such as factories, for example, cameras may need to be protected from sawdust.
In restaurant kitchens, ensuring the camera is protected from greases is also important and in bars and clubs, factors such as smoke machines and spilt drinks might impact whether housing is needed.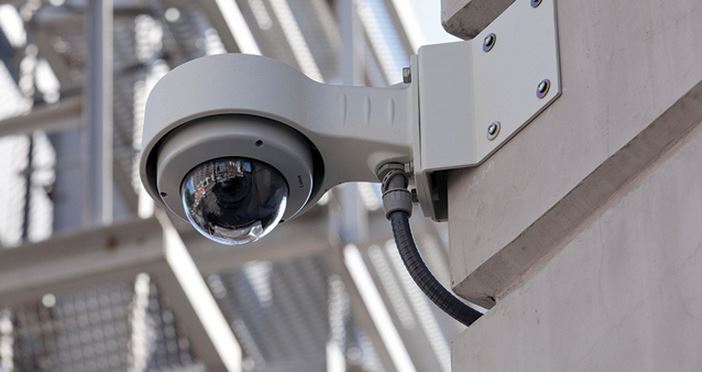 How large an area do you want to cover?
The area that you want to cover with a surveillance system will determine the best cameras to use and the network type you need. It's useful to draw up a blueprint of the floor area to assess the amount and types of cameras needed.
PTZ cameras work best for larger areas given their large range of view and ability to zoom in on particular activity. With Canon, wide angle views of up to 112 degrees enable you to monitor huge areas with just a single camera.
This means surveillance networks can be established with fewer CCTV cameras, keeping costs down. Even at the widest viewing angles, image quality remains impressive.
In comparison, smaller areas are only likely to require static cameras. There are also different types of networks which are required depending on the area size you want to monitor.
Most businesses will only require a LAN network; however large networks will require a WAN network.
How much image clarity and detail do you require?
The size of the area you want to monitor will determine the resolution you need. For example, wide retail spaces will require high resolution cameras to ensure image quality isn't compromised when zooming.
Alternatively, smaller areas such as offices or reception rooms will typically only require low resolution cameras. It's not always the case that the highest resolution camera is the best for every situation.
Instead you're better to assess each space one by one, spending your money effectively.
What are the lighting conditions?
It's important to test cameras to see which models work best in the lighting conditions present at your premises. Areas inside and outside will experience different amounts of sunlight throughout the day, not to mention throughout the year as seasons change.
Thinking about where the light will be is vital. For example, will there be a reflection off the floor?
Is there strong backlighting creating a glare? For environments such as nightclubs, strobe lighting can have an effect on the camera.
Thankfully there are a variety of technologies which will ensure you capture usable footage in a range of lighting conditions. Light filtering technology such as IR filters and artificial illuminators can amplify or reduce the amount of light reaching a sensor, creating clearer images during the day and night. 
Is audio important?
Integrating audio into a surveillance system makes it possible for personnel to hear and speak with possible perpetrators. It can be easily integrated with video management systems.
From a surveillance point of view it can also be used as an independent detection method triggering recordings and alarms when audio passes a certain threshold. 
Is scalability key? Will you need to add more cameras as time goes on?
Having a flexible and scalable surveillance system is important. The problem with traditional CCTV systems is that they are a closed circuit meaning that everything is hard-wired and difficult to scale.
It is therefore important to choose IP cameras which connect over a wireless network allowing you to easily grow and scale any installation as you need. Adding IP cameras to a network works in much the same way as adding a phone to a VOIP network – it's simple and easy and there's no wiring to change or update. 
What parts of your business could benefit from effective surveillance and monitoring?
Surveillance systems benefit businesses by not only monitoring theft, but increasing staff safety and confirming incidents. With the knowledge that they're being protected, employees are more likely to feel safe.
The portrayal of events provided by a surveillance system is also valuable for confirming incidents such as theft, work place violence, property damage and vandalism. This information is essential when suing for damages or reporting to law enforcement.
But having a good surveillance system can bring benefits not just in terms of security and monitoring, but also in wider business operations and analytics.
In industries such as retail, for example, the ability for surveillance systems to provide data and customer insights is changing the way that not only security departments work, but also marketing, customer service and IT departments, providing valuable insights to help vastly improve customer experience and profitability.
For example, understanding how customers move throughout a shop is crucial to how products are laid out in the store and advanced features such as facial recognition can be used to estimate attributes such as the gender and age of shoppers.
These capabilities can allow store owners to not only better understand the profile of their shoppers, but they also enable targeted advertising to be implemented to help display the most relevant products to their target market. 
What challenges do you want to overcome with video surveillance? Can VMS analytics help?
An effective VMS system is essential given that the average amount of time someone can focus on video footage is only 20 minutes. VMS or in-built analytics can alert you to suspicious activity and apply analytics, improving the way you run your business.
Built in motion detection and intelligent algorithms provide useful, actionable information, such as the total number of people that walk into a shop. Compared against sales, retailers can assess the rate of conversion and the best times of day for promotions. 
How to select a suitable VMS solution
It's important that the requirements of a video management system, including how you plan to use it, are verified clearly during the planning stages. The key problems that have driven your purchase of a surveillance system will outline the aspects of a VMS solution you need.
As an example, people who travel or have multi sites to manage may require the ability to access their surveillance system from any location. Each VMS solution should therefore be tailored to you and your business.