Vanderbilt, whose products span access control, intrusion detection, video management and integrated solutions, is a major player in the security industry and has made some noteworthy acquisitions in recent years.
In this video David Sullivan, VP Global Sales, Vanderbilt, explains the new products they showcased at IFSEC International 2017.
Company background
Vanderbilt, a subsidiary of ACRE LLC, describe themselves as a global leader in products and equipment associated with access control, video, intrusion detection and integrated security management. Its customers include many leading multi-national corporations.
Vanderbilt was established in 2012 and through a series of acquisitions including Siemens Security Products in 2015 has brought together product portfolios, talented personnel and an installed base representing more than 30 years of experience with the headquarters in Wiesbaden Germany.  The company prides itself on its lean structure and quick decision-making that enables it to deliver state-of-the-art products and systems its customers demand.
The company boasts a very loyal staff with the average employee clocking up more than 15 years of service which the company says helps to build trust and foster innovation. As a result, the vast majority of end-users have been customers for many years.
Vanderbilt's customers are supported by five European sales offices serving the UK and Ireland plus the French, Nordic, Spanish, Italian, Portuguese and German-speaking markets.  The International Sales office in Karlsruhe, Germany takes care of Asia, Middle East and eastern European countries.  In addition, Vanderbilt supports the Americas from its US office in Parsippany, NJ.
Market position
Vanderbilt is expanding rapidly and its acquisition of Siemens Security Products in 2015 was a major statement of intent regarding the company's position in the security and access control market. It added another significant acquisition in 2016 when it purchased Dublin-based Access Control Technology (ACT) Ltd. It greatly enhanced the company's access control and video surveillance product line as well as introducing a new cloud-based solution to the portfolio.
Vanderbilt is planning to capitalize on ACT's strong and profitable market share in the UK and Ireland as well as introducing the products in various other global markets.
The company claimed the acquisition was the logical next step in growing the business on an international scale in the areas of access control, video and intrusion.  Also in 2016, Vanderbilt's holding company ACRE LLC acquired US-based ComNet which manufactures video and data transmission equipment.
Vanderbilt CEO Joe Grillo came top in a poll by IFSEC Global of the 50 Most Influential People in Security and Fire in 2016.
Latest products and solutions
Vanderbilt claims that its systems are easy to use, install and maintain. They are specifically designed to meet short and long term objectives in terms of security.
The overall access control portfolio is designed to meet the needs of applications from 2-4 doors all the way up to enterprise multi-national facilities.
The brands include smaller web-based access control systems such as lite blue and ACTpro.  These products provide customers with solutions for applications that start out small but also have the potential for expanding later as required.
In addition, the access control portfolio includes bright blue and ACTenterprise which are ideal for small to medium-sized businesses.  The web-based solutions provide intelligent access management allowing the freedom to access, manage and control points of entry from anywhere.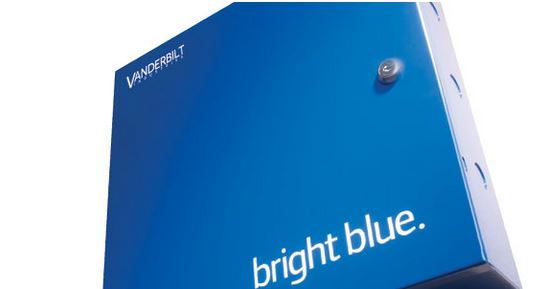 The Security Management System or SMS is a more sophisticated system suitable for larger, multi-site or global organisations. It delivers a powerful, single source solution for integrating a facility's access-control technologies, digital video and alarm monitoring systems.
It also provides flexibility by supporting an unlimited number of cardholders and readers.
The Vanderbilt Video Management System allows users to choose from a diverse range of network video recorders and software. A versatile line of NVRs support IP, analogue or hybrid environments with high resolution cameras which can be used as a standalone solution or integrated with Vanderbilt's access control systems for increased security.
For customers' intruder detection requirements, Vanderbilt offers SPC.  The SPC series are true hybrid intrusion detection systems that combine a cost-effective design and installation concept with unmatched flexibility and scalability up to 512 zones.  SPC offers advanced functionality for applications of all sizes and criticality with flexibility for expansions and upgrades.
In addition, SPC Connect is a cloud-based service offering which allows installers to remotely perform maintenance, access functions for configuration management, firmware updates and communication status checks.  End users can also download and app that facilitates viewing cameras and alarms on the system and view panel status.